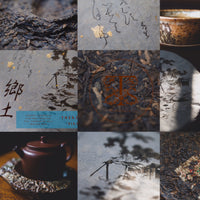 The Xiangtu Collection
Cultivation begins with the soil. Theasophie's shoucha selection begins with our very own Jingmai Mountain productions and traverses decades to arrive at a Cultural Revolution era classic. Xiangtu, native soil, sense of place and the affective quality of earth. Modesty aside, we believe this is one of the most exquisite shoucha collections you will encounter!
鄉土珍藏
Le cru et le cuit (homage to Lévi-Strauss)
Raw and cooked, sheng and shou - the two main categories of Pu'er tea, are also used by French anthropologist Claude Lévi-Strauss to denote nature and culture. Pu'er tea is a poignant expression of these interpenetrating domains, a natural-cultural substance in a constant state of transformation.
new to theasophie? here are a few suggestions ...